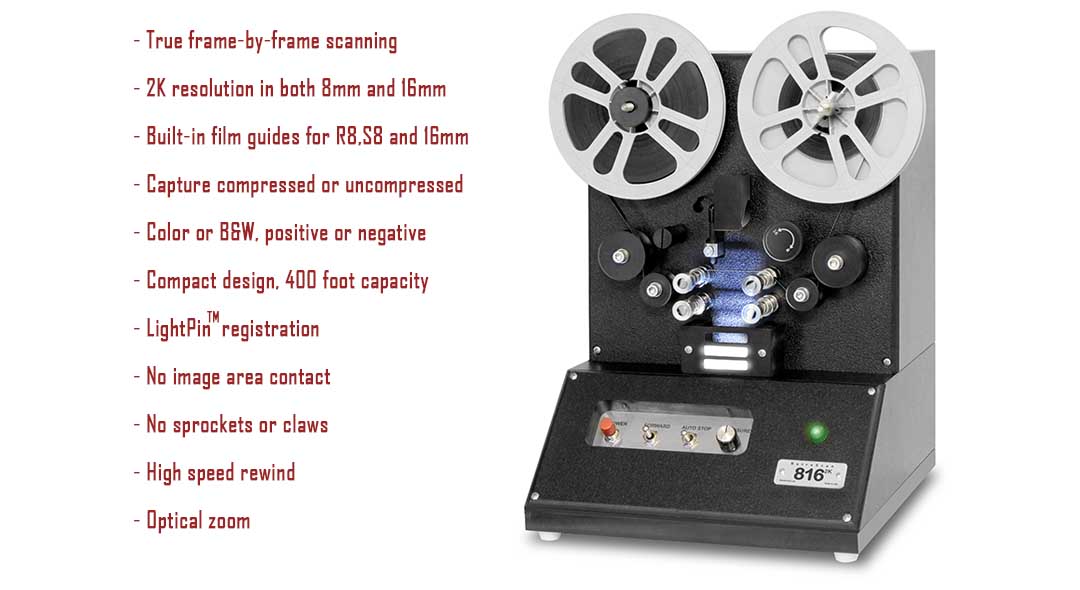 Introductory price:
$5,495
(includes free shipping)
Normal price $6495 plus shipping. Contact us for more info.
To order, click
HERE
.
Note: This unit requires the RetroScan Universal Mark-II software ($199.95) sold separately.
When you receive the unit, you will be provided a purchase link. It is an instant download.
System specs for your PC can be found
HERE
.
Click
HERE
to see how the RetroScan 816
2K
LightPin system works.


RetroScan 8162K Desktop Movie Scanner
All the same quality as our full size Universal but built with the small shop in mind where space and budget might be limited. Also a great companion unit if you already have a Universal and just need to handle a bit more 8mm and 16mm film. Full 2K resolution is more than necessary for all 8mm and 16mm home movies and both are handled in one, compact desktop unit. No need to change guides. Just thread your film on the appropriate built in film guide and focus using the convenient focus knob that both focuses the film and crops in one motion. Like our Universal 4K, this unit was also designed specifically for the Academy of Motion Picture Film Archives in Hollywood, which has been using our equipment exclusively since 2003. This means no sprockets, claws or pinch rollers to potentially damage your priceless movies and handles the film only by the edges with no image area contact. A lack of pressure plate means no hair in the gate! This unit uses the very same camera sensor as the Universal 4K but is limited to 2048 x 1152, for true 16:9 2K scans of all 8mm and 16mm source material. The easy to use RetroScan Mark-II software scans

Codec Free

, frame by frame, either compressed or uncompressed, at approximately 15fps, which means a 50 foot roll of 8mm or a 100 foot roll of 16mm will scan in about 4.5 minutes. If your PC is a bit slow or your hard drive is getting a bit full and sluggish, the unit can be slowed down to 10fps without affecting the quality of the scan. Final playback rate of the film is determined by the Mark-II software after scanning is complete. Files can currently be batch exported in a variety of formats and resolutions as compressed or uncompressed AVI or MOV files, or as high resolution

image sequences

in mildly compressed JPG or totally uncompressed PNG, BMP or TIF.

The RetroScan 816

2K

Desktop Scanner does not reproduce the audio from sound films. However, a practical option that will work for both magnetic and optical sound for all formats is our

RetroSync Studio Sound Module

. It allows you to use any standard projector to produce a synchronous sound track that will match your Mark-II transfer.
Back to home page
.
Table top Super 8 film scanner, 8mm film scanner, super 8 film scanner, regular 8 film scanner, normal 8 film scanner, 9.5mm film scanner, 16mm film scanner, telecine, 2k telecine, home movie transfers, vintage film scanning, Wolverine, Reflecta, hi definition film transfers, 8mm hi definition transfers, hi definition home movie scanner, film scanning, home movie scanning, MovieStuff film scanners, home movie transfers, do it yourself home movie scanning, low cost scanner, HD film scanner, 2k film scanner, high resolution film scanner, movie film scanner, motion picture scanner, professional film scanner, scanning film, scanning movies, scanning slides, scanning color negatives, slide scanner, negative scanner, desktop film scanner, magnetic sound, optical sound, frame by frame scanning, frame by frame transfers, 35mm scanner, 28mm scanner, Academy Film Archive scanner, USC Scanner, UCLA Scanner, Flashscan, Laser Graphic, Lasergraphic