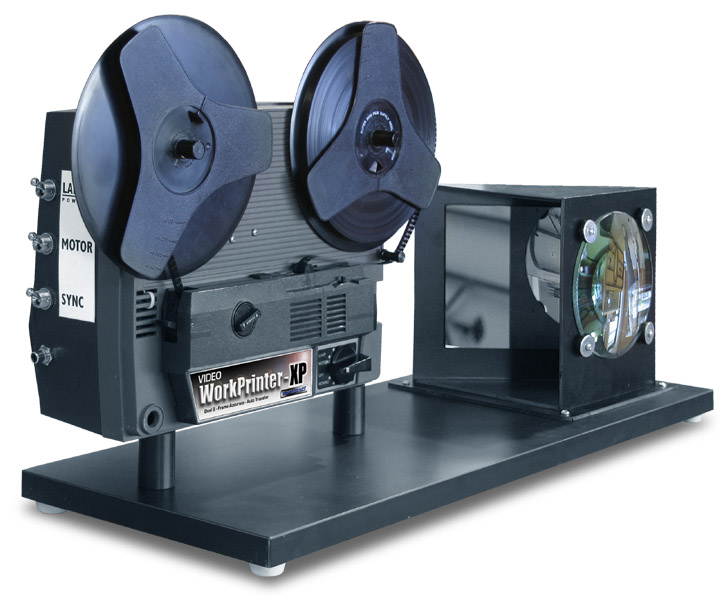 WorkPrinter-XP Telecine
$1595.00
plus shipping, import fees, VAT
Click HERE to order the WorkPrinter-XP Telecine!

Click HERE for sample images!

Click HERE for testimonials!

Click HERE to see how it works!

The Video WorkPrinter-XP is designed for stunning, ultra high quality, TRUE frame-by-frame transfers of both regular 8mm and super 8mm film to PAL or NTSC video using programs such as CineCap or CaptureMate. A specially modified mouse is provided with the unit that lets the Video WorkPrinter-XP "talk" to your Mac or computer, giving it commands to AUTOMATICALLY capture each individual frame of film and create a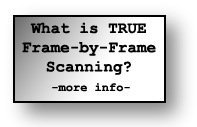 standard video file that can then be played back at any speed desired. And unlike typical projectors or other 1CCD telecine units that crop the image and shoot off the softer, base side of the film, the Video WorkPrinter-XP lets you use a high quality 3CCD camera to image off the sharper, emulsion side of the film via a precision, jumbo 5 inch condenser lens. The enlarged gate allows access to 100% of the film frame and your resolution is limited only by the quality of the camera that you use. Total frame discretion means the clearest, most crisp picture possible next to a Rank transfer.
The original lamp has been replaced with a no heat, super-bright LED light source that should last darned near forever (but spares are available). The sprocketless drive protects your customers' films from the potential damage typically found on other sprocket driven projectors and transfer devices. The entire unit is completely refurbished prior to modification with all metal film surfaces polished, belts replaced and all mechanicals cleaned and lubed. The Video WorkPrinter-XP automatically scans at an efficient 8 frames per second, about half the speed of regular 8mm.
The Video WorkPrinters from MovieStuff are THE finest personal, TRUE frame-by-frame transfer units on the planet. If you need to have total control over your image, are on a budget, and can not afford a Rank transfer, then the Video WorkPrinter is the next best thing.



Technical stuff:
The Video WorkPrinter-XP has a maximum capacity of 400 feet (take up reel included) and comes pre-aligned with the condenser lens on a convenient base. Sound film can be run through this unit but it will not reproduce the audio track as it is a silent projector. This unit works best with a camera possessing a minimum 14x optical zoom (12x can be used but may require a +1 close up filter). The WorkPrinter uses a high-torque DC motor and LED light source and can run off of 50/60 cycles from 100-256 VAC so no transformer is needed for international users. You will need a Raid-0 drive array using ATA or Ultra ATA drives (no SATA), minimum 512 megs of RAM, a firewire card and a P4 level Intel processor or the like. Your operating systems should be XP Home or Pro (no Vista) for the PC or OSX or above for the Mac.
The WorkPrinter can work with both PAL and NTSC cameras and comes with extra belts.
The WorkPrinter can also capture in HD if using the Velocity HD software and the Velocity Box (not included).
Software:
Written specifically for use with the WorkPrinter series, CineCap will work with virtually any PC based firewire system to create standard DV codec AVIs that can be imported into your existing edit program (even Final Cut). CineCap also will automatically perform the necessary speed changes for your footage. While CineCap is recommended for use with the WorkPrinter, it is not a product of MovieStuff. All questions pertaining to CineCap should be addressed here: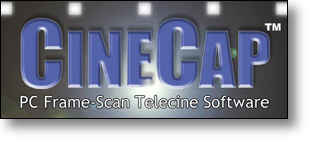 If working with Macs, I recommend using CaptureMate. It will allow for high speed 8fps captures of files that can then
be imported into edit programs like FCP and others. CaptureMate can be found here: