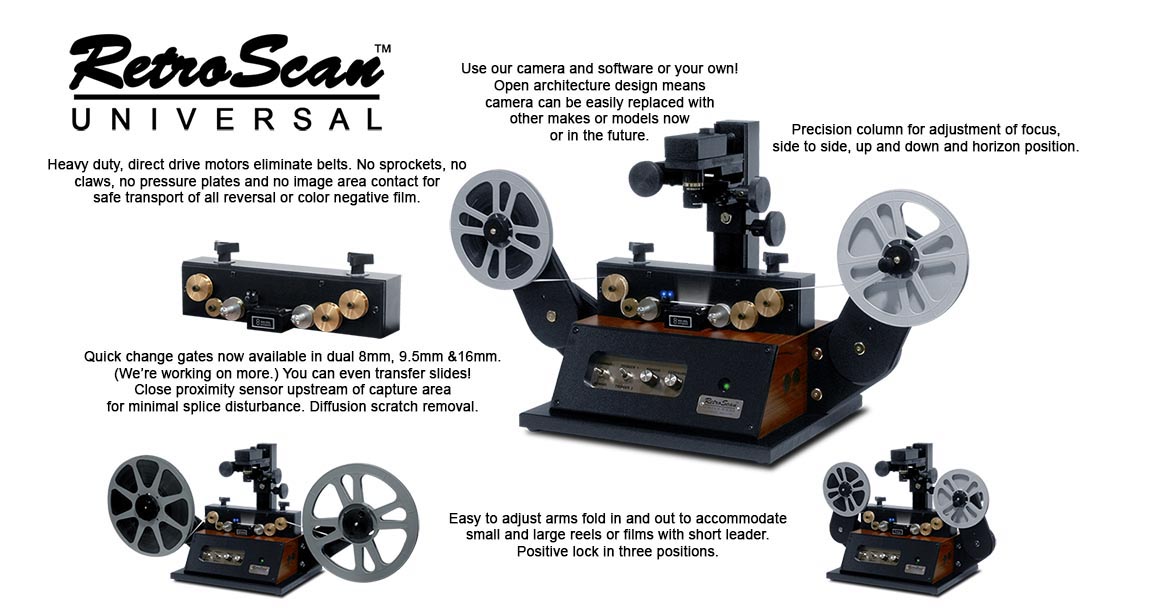 Scans reversal home movies or modern color negative!
With a current choice of interchangeable Dual 8, 9.5mm, 16mm and Slide gates, all your scanning needs can now be found in one, compact desk top unit. While our previous Retro Pro series provided excellent results but were limited to 720p, the RetroScan Universal now offers up to 2K quality* at a fraction of the price of competing SD single format scanners. Gates are easily changed out in seconds and automatically align with the light source with no tools necessary! The tension clip found in our previous Retro Pro line has been replaced by an auto-tension system that maintains optimum, safe film tension without the need for adjustment. New spring-channel design prevents lateral drift by registering film against factory edge. Film path handles the film only by the edges for maximum film safety. No sprockets, no advance claws and no pinch rollers to possibly damage your film!

Adjustable arms let you get the most out of reels with short leader or expand for larger reel sizes. The precision column allows adjustment of all camera positions such as up, down, side to side and horizon correction. Manual focus means you always have a crisp picture and constant emulsion distance from the camera means no focus drift, regardless of film thickness on the same reel. Configurable lens tube provides variable cropping to maximize the capture image area, including the sprocket holes. The camera trigger sensor is upstream from the target area which minimizes disturbances after head leader, and close proximity of the sensor means little to no jumps at film splices. Super bright, no heat LED back-light means room lights can be on during transfer, and diffusion behind the gate minimizes or removes visible base scratches and greatly reduces grain, compared to the previous Retro Pro series. Direct drive motors eliminate belts and pulleys for ultimate reliability and low, low maintenance. Auto shutdown in the event of film breakage, jam or end of reel with switchable alarm. Simple USB connectivity means no expensive capture cards or custom PC build. Scan at two different speeds: Compressed at 15fps and uncompressed at 10fps***. While the RetroScan-HD Universal software will work on a Mac running Windows, we do not support it as we are not a Mac shop and would have no relevant information to offer in the case of problems.

- NOTE ABOUT THE CAMERA -
We currently provide only one camera from FLIR (formally Point Grey). The unit comes with a 2K camera capable of scanning up to 2048 x 1536. Also, (with sufficient expertise) the camera on the RetroScan Universal can be easily removed and replaced with a different make and model. Industry standard 5 volt trigger pulse should be compatible with most other manufacturers' cameras but care should taken when implementing a different imaging device. While changing the camera does not void the warranty of the RetroScan Universal unit, user assumes all risk associated with the safety and proper operation of the RetroScan Universal and the user's substitute camera and associated equipment. Actual damage to the RetroScan Universal or camera from use of a different camera or software will void the warranty, so care should be taken during the course of experimentation. Also, for reasons of practicality, it should be understood that MovieStuff, LLC will not provide assistance, support, nor assume any liability towards the use of any camera other than the one originally supplied with the RetroScan Universal unit. For this reason, the RetroScan Universal will not ship without a camera as we must have a means of validating proper operation for full customer support.

- NOTE ABOUT THE SOFTWARE -

Due to differences in drivers, the RetroScan-HD Universal software will NOT work with any camera other than the one we provide, even if the other camera is made by Point Grey/FLIR. Also, RetroScan-HD Universal software can not exist on the same PC as older RetroScan-HD software for previous units. Any previous version of RetroScan-HD must be removed for proper operation of the Universal unit. The RetroScan Universal software is $199.95 and is sold separately from the Universal unit. The software is available via a purchase link provided in the in the instructions for the unit. It is an instant download.
- NOTE ABOUT 9.5MM FILM TRANSFERS -
We have found that there is practically zero consistency in quality control over the past production of 9.5mm reels. The hole in the middle of the reel has measured from as small as 5.5mm to as large as 6.5mm. Also, most surviving 9.5mm reels are horribly warped to a degree that would interfere with proper operation of the RetroScan Universal unit. As a result, we supply two special 9.5mm reels with oversize holes that fit the spindles of the RetroScan Universal unit. One is a take up reel and the other is a source reel. All 9.5mm film must be transferred to the provided 9.5mm source reel for proper operation of the unit.

- NOTE ABOUT SLIDE TRANSFERS -
We have found over the years that the number of people who actually need, or can much less afford, high resolution scans has fallen off dramatically. This is because most people now look at their slides on the internet or smart pad with very few needing the extra resolution for large scale prints. The slide gate will allow scans of 35mm or smaller transparencies to internet HD resolution quickly and easily using the very same RetroScan-HD Universal software.

*Current camera is the Chameleon 3 from FLIR (formally Point Grey). Maximum sensor size is 2048 x 1536.

***Scanning compressed usually requires a single, standard drive, depending on efficiency and speed of your PC. Scanning uncompressed may required an internal Raid-0 drive array. Use of an SSD is acceptable but chosen SSD should be tested for consistent performance as tests have found that not all SSD's are ideal for constant video capture.

Click
HERE
to go back to main page.
Copyright 2018 MovieStuff, LLC all rights reserved.
Super 8 film scanner, 8mm film scanner, 9.5mm film scanner, 16mm film scanner, telecine, home movie scanner, film scanning, home movie scanning, MovieStuff film scanners, home movie transfers, do it yourself home movie scanning, low cost scanner, HD film scanner, 2k film scanner, high resolution film scanner, movie film scanner, motion picture scanner, professional film scanner, scanning film, scanning movies, scanning slides, scanning color negatives, slide scanner, negative scanner, desktop film scanner, magnetic sound, optical sound, frame by frame scanning, frame by frame transfers