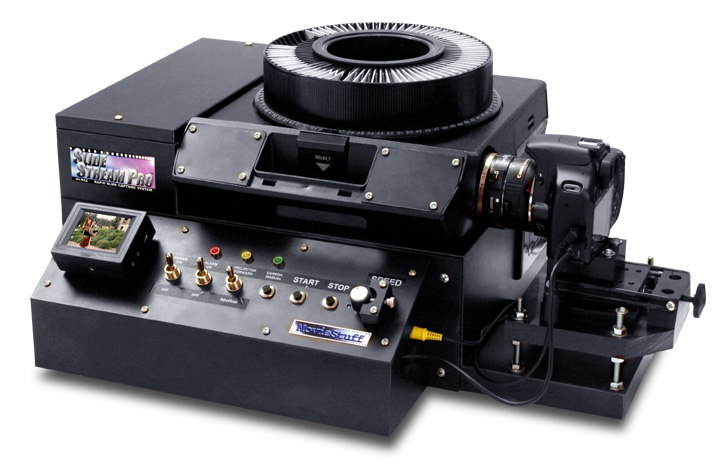 SlideStream-Pro Rapid Slide Capture System
-Now with adustable speed and ESS!-
$2995.00
plus shipping, import fees or taxes
(price does not include camera, lens, extension tubes or camera power supply)
Are you an owner of the previous SlideStream unit? Contact us about upgrading your SlideStream to a SlideStream-Pro!
Click HERE for sample images. Click HERE for an order form.

MovieStuff now offers the perfect solution for high volume slide capture for the large and small business owner.
Combining the venerable workhorse Kodak Ektagraphic projector with an economical Canon EOS, XT, XTi or XSi (450D) digital still camera, the SlideStream-Pro can automatically archive a full 140 slide tray in about 15 minutes or faster, depending on the camera/flashcard combination used. The speed is adjustable and is limited only by the cycle time of your particular camera. Resolution is limited only by the level of megapixel camera you use. Captures can be in JPEG or RAW format. A cool, tungsten balanced fluorescent light source offers perfectly even illumination and zero hotspot with no danger of slide damage due to heat. The SlideStream-Pro will capture a full tray and stop automatically or our new EES (empty-slot sensor) will automatically stop after the last slide for trays not fully loaded. A red LED and end of run alarm and lets you know that the unit has completed scanning. The alarm can be slienced for quiet environments, leaving just the red LED for notification. The convenient LCD screen allows monitoring the progress of each slide for all Canon models and will also work with the new LiveView found on later edition Canon cameras. The rugged, precision camera mounting platform is designed for easy set up but will hold the camera solidly when unloading the flash card during day to day use. There is a convenient AC outlet on the side of the SlideStream-Pro for plugging in the optional Canon Rebel supply (recommended to avoid recharging the battery).
This unit is not designed as a replacement for quality slide scanners such as a Nikon, HP or Epson and does not incorporate Digital Ice. If you don't mind the slow cycle times of such scanners and your customers don't mind the higher charge per slide, then that is the way to go. But if your clients have hundreds, thousands of slides and a limited budget, and still require hi-resolution viewing of their slides for High Def or prints up to 8x10 at 300 dpi, then SlideStream-Pro is the system for you.
This unit will work with the original Canon Digital Rebel EOS, XT, XTi or XSi 450D (not included).
You will need the Canon 18-55mm zoom lens and the Canon EF25 II Extension Tube (not included).
The optional Canon Rebel power supply is a product of Canon. (not included).
Photoshop is not required but some sort of image program is recommended to
maximize the quality finishing of your scans.